Police Explorers Post #827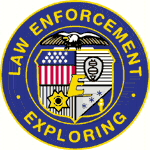 Law Enforcement Exploring is a worksite-based program for young men and women who range in age from 13 to 18 years of age. Once an Explorer has reached the age of 18 they may request to stay on as an adviser until they reach the age of 21.
Law Enforcement Explorer Posts help youth to gain insight into a variety of programs that offer hands-on career activities. For young men and women who are interested in careers in the field of law enforcement, Exploring offers experiential learning with lots of fun-filled, hands-on activities that promote the growth and development of adolescent youth.
How do you join? Anyone who is interested that meets the above age criteria can obtain an application from the Records Department at the Clovis Police Department lobby Monday through Friday from 8:00 am to 5:00 pm from mid-September through the end of October. Once the application is completed it can be dropped back off at the Records Department front window. Those that pass a background check will be notified of the first meeting date by the Explorer group, which is for the parents and the teenager where the Chief of Police will welcome the group and the program will be explained. The program operates from January through December on the calendar year. If you have any questions you can contact Detective Albert Sena at the Clovis Police Department at 769-1921  Ext. 1426 or reach him by e-mail at asena@cityofclovis.org
WHERE: Clovis Police Department, 300 N. Connelly Street, Clovis, New Mexico
WHEN: Meetings are on the first Thursday of each month from 6:00 p.m. until 7:00 p.m. for classroom training and then the instructors will schedule hands-on training on a Saturday to be announced.