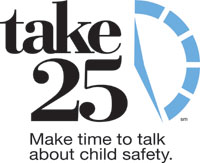 A program of the National Center for Missing & Exploited Children®, the goal of Take 25 is to heighten awareness about children's safety issues. With a focus on prevention, the campaign encourages parents, guardians, and other trusted-adult role models to spend time talking to kids and teaching them ways to be safer.
Take 25 was started to commemorate National Missing Children's Day on May 25th. First proclaimed by President Ronald Reagan in 1983, the day serves as an annual reminder to the nation to renew efforts to reunite missing children with their families, remember those who are still missing, and make child protection a national priority. It's a time of reflection and renewed hope for millions of families in communities across the country.
For more information on take 25, please visit their website at http://www.take25.org/.